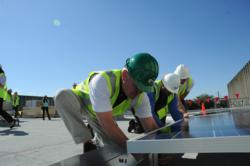 Orlando, FL (PRWEB) January 25, 2013
Wednesday, Orlando Mayor Dyer worked along with OUC Vice President of Customer & Sustainable Services Byron Knibbs and ESA Renewables to install solar panels on the roof of the Citys Fleet Management Division Building. The solar project is part of Green Works Orlando, the Citys sustainability initiative to engage everyone who lives, works and visits Central Florida in the effort to go green.
Through Green Works Orlando, the City is working to ensure Orlando remains one of the most environmentally-conscious cities in our country,said Orlando Mayor Buddy Dyer. A key part of our plan is investing in the next generation of clean, green energy, like solar, which will not only help us continue to prevent pollution, but also create new high-tech, high-wage jobs for our community and further diversify our economy.
At the event, Mayor Dyer and Knibbs joined the ESA Renewables construction team to help mount the three-foot by six-foot solar panels to the roof of the City facility. When complete in February, a total of 1,392 solar panels will be installed in the three array system, which covers about 50,000 square feet.
OUC is proud to help power Orlandos designation as a Solar America City through projects like this, Knibbs said. In fact, later this year we will begin work on Central Floridas first community solar farm at our Gardenia facility. The community solar farm will allow customers to purchase solar power without the expense and hassle of installing it at their home or business.
The 417 kilowatt solar array is estimated to save the City $ 800,000 in energy costs over its 25-year life. In total, the project will generate enough energy to power about 43 average Orlando homes and offset emissions equivalent to planting 2,400 trees and taking 2,375 vehicles off the road per year.
We are proud to be a part of the Citys efforts to move towards sustainable energy, said Jeffrey Burkett, President of ESA Renewables. Not only does this project contribute to the health of our environment, it also has a positive effect on our economy through the creation of 20 green jobs.
ABOUT GREEN WORKS ORLANDO:

Mayor Dyer launched Green Works Orlando in 2007, and since then the City of Orlando has led by example to promote environmental stewardship, educate people about going green and encourage others to incorporate a concern for the environment into the everyday workings of government and private business. Some of the initial successes under Green Works Orlando include: